THE SURVIVAL KNIFE THAT'S GUARANTEED FOREVER.

ONE OF THE STRONGEST KNIVES MADE.
That's me using a 10 pound sledge hammer to beat my prototype Blak Knife into a tree.
Those silver dumbbells that you see directly on the handle of the Blak Knife are 70 pounds of iron.
I am the 170 pound man standing on top of those weights the Knife is holding without budging.
You'll notice the blade remained pin point straight after the 240 pounds of direct weight pressed down on the full tang blade hanging in the tree.


K100/D2 steel is an extremely strong versatile steel.
It's the steel that is used in the machines that pound and cut knives into their final shape.
Though other steels out there are just as strong, they have 1 MAJOR FLAW FOR THE SURVIVALIST.
You can't sharpen them in the field.
That's why D2 was the only top grade steel choice for a survivalist and the only steel for the BLAK KNIFE.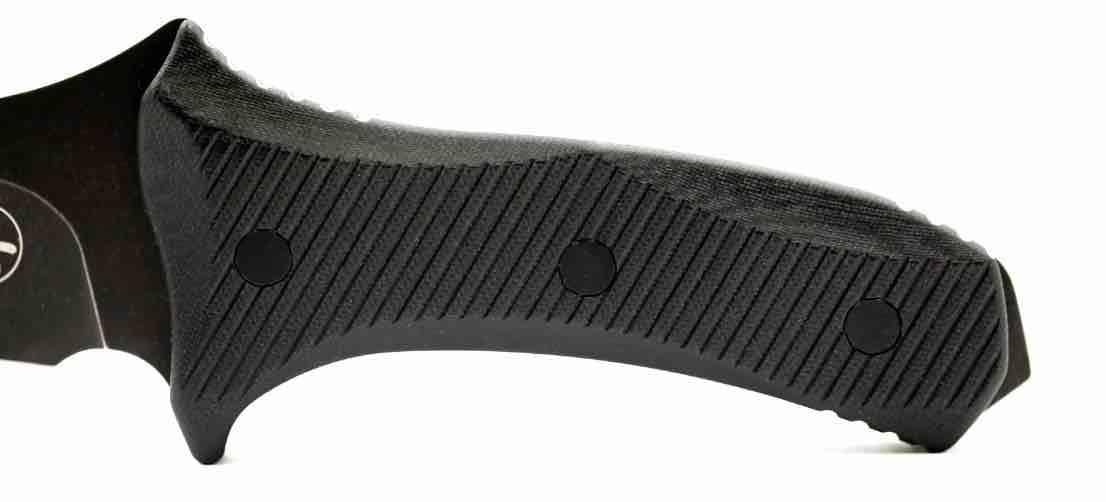 No Slip Grip Ergonomic Handle
I don't know about you... but I need a knife to be a seemless extension of my hand.

That means no sharp edges on the handle cutting into my skin, or giving me pain distracting me from the task at hand.

No slipping to create grip fatigue or friction blisters.

No freezing cold, or burning hot knife handle to create complicated tasks out of simple outdoor work.

The Blak Knife's custom forged G10 Motion Grip Ergonomic Handle provides all that and more.

The G10 composite provides a rock hard handle that is not sensitive to the weather changes.

The design has been shaped and tested through 4 prototypes to give you the perfect fit.

Its micro groove grip and water channeling grooves make certain it will never slip or create the friction giving you blisters, sores, or cuts like so many knifes do after hard use.

This is what makes the Blak Knife one of the sturdiest, most reliable and survival-ready knives on the planet.



It was vital to build a knife that could have multi-cutting functionality.
With so many specialized knives for EDC, skinning, batoning, carving, hunting, etc.
I needed a blade that had the POWER to baton and hack through the brush...
The durability and usefulness for aggressive & brutal everyday carry...
The sharp convex angle to skin animals quickly and as effortlessly as possible...
The concave slicing edge to slip through logs like butter to stack piles of tinder...
And the perfect puncture point after hunting small and large animals that could slice through meat and bone.
That's why I made the Blak Knife's DUAL BLADE.
With the Concave and Convex Edges, steel thickness, and precision point you'll be able to make every last cut from shredding logs, to carefully skinning small game even delicate fish.
You'll have raw precision power in your palm and on your side for every situation imaginable.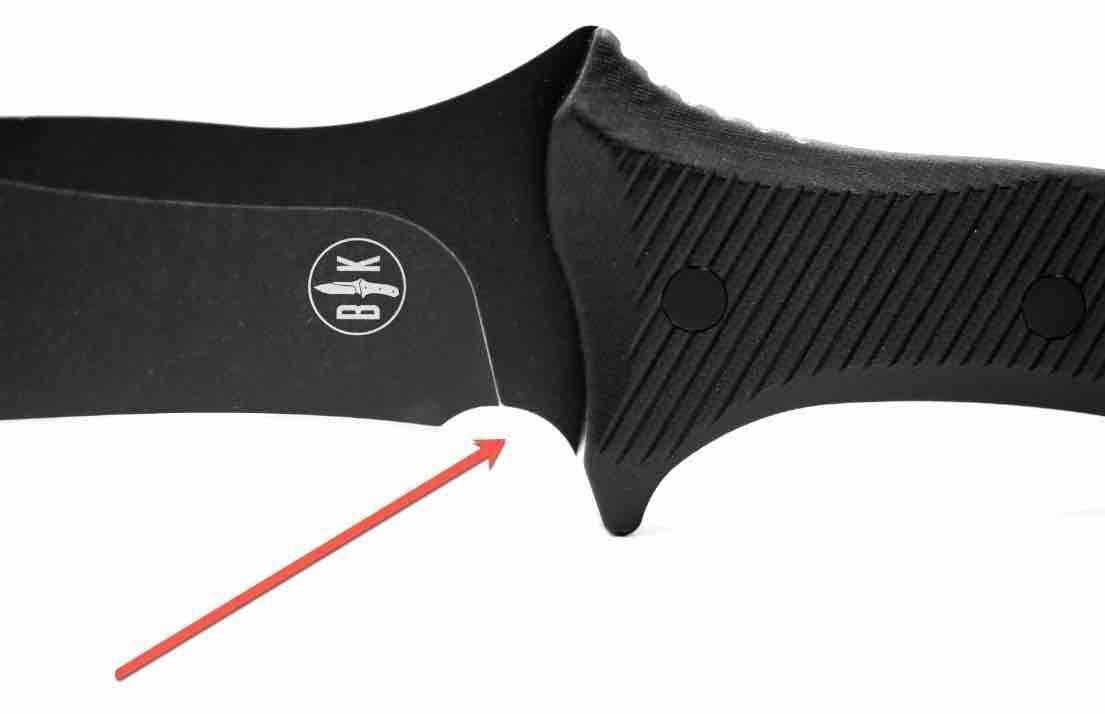 Expertly Located Ricasso Finger Notch
In this picture , you can see the strategically placed Ricasso finger notch.

This notch was expertly designed and engineered to make this a truly versatile knife. It allows you to choke up on the blade for precision work and give you the same control as a surgeon!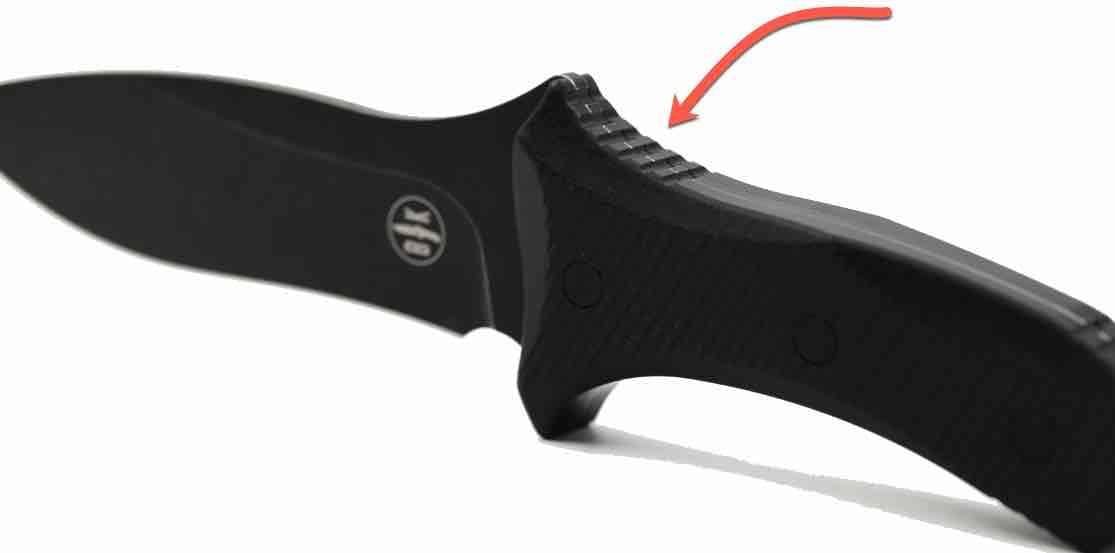 Dual-Guard Upper Spine Jimping
You'll notice the balanced notches in the top of the knife handle and blade. This is called jimping.

Jimping on a blade is critical when doing precision work such as carving, peeling, and filleting (just to name a few).

These small notches were carefully thought out by our Blacksmith, and could actually save a life in a home protection act.

When you put your thumb on the spine jimping, you get pinpoint accuracy of the blade with unshaken control.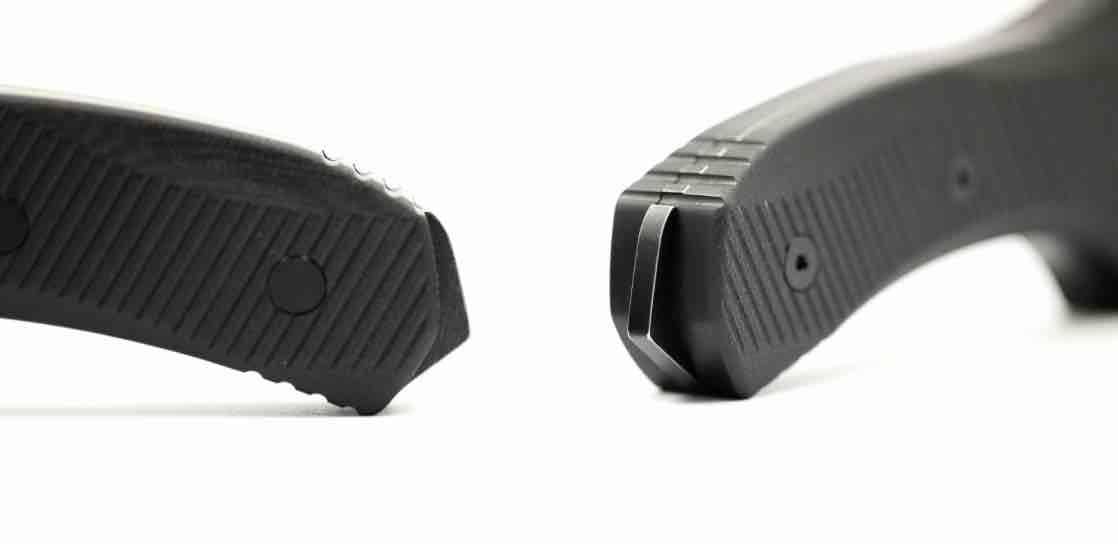 Always have this knife on you to make a quick escape form a car accident or fire - the rear D2 striking tip will shatter windshield glass with ease.

In addition to using the glass breaker for smashing out windows, you can also use it to stop an attacker... Just imagine the damage this would do to an attackers face.

As you can see, only the finest materials and features are used in the Blak Knife.

After all, it's not only survivalists who rely on this knife.

My friends and family carry the Blak Knife, keep it in their bug-out-bags, and in their glove boxes. So, if they ever find themselves in danger I want them to know they can trust their life with this knife.


Look and listen listen to the custom snap & lock Kydex case made to form fit each and every Blak Knife.
Every Blak knife is a little different, and everyone comes with a gorgeous custom molded Kydex case.
Each case will hold this beast of a knife perfectly secure because of the snap & lock feature.
But it does more than that...
Each belt clip detaches easily giving LEFTIES the same lock and draw feel as righties.
The belt clip can also attach to your belt in reverse making this MONSTER OF A BLADE fully concealed.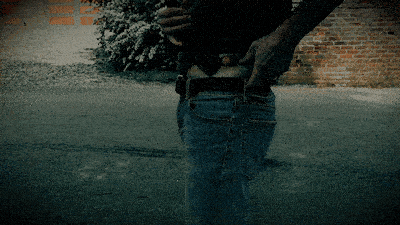 The minute you get your Blak Knife you any are still available, you'll pop open the box, and you'll understand how much I believe in it.
It's because I held it myself.
I put it through all the paces, then back through more brutal paces.
If it did not crush all my expectations you wouldn't be reading about it.
I made it to be as close to perfect as possible.
In doing so I believe I created knife that can last forever, PERIOD.
I am so confident it will last through any everyday or survival situation, I'm guaranteeing it will last you forever, NO MATTER WHAT.
Take a look...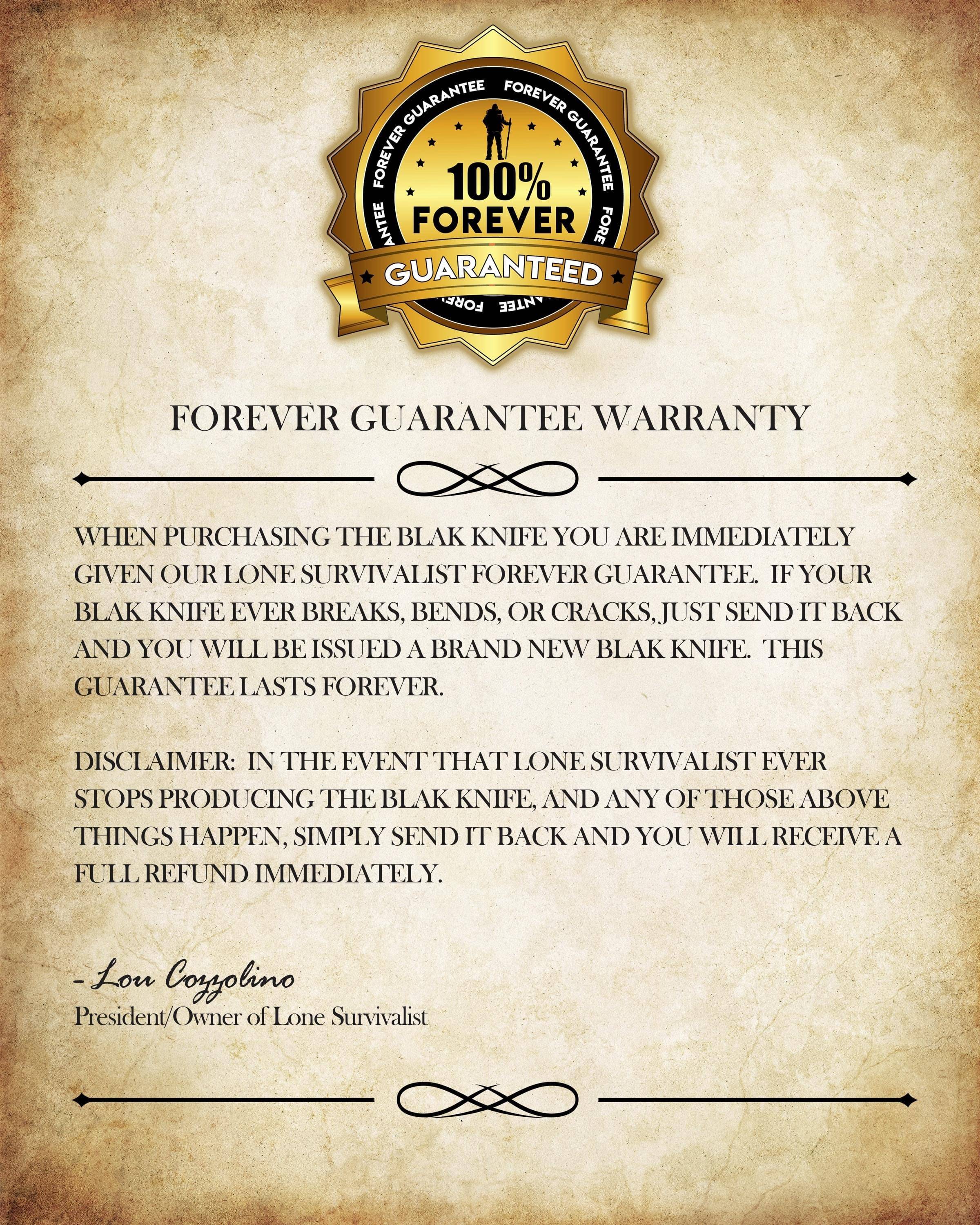 The Vision Behind Creating the Blak Knife
The Story Of the blak knife

NOTHING TO LOSE 100% MONEY BACK GUARANTEE.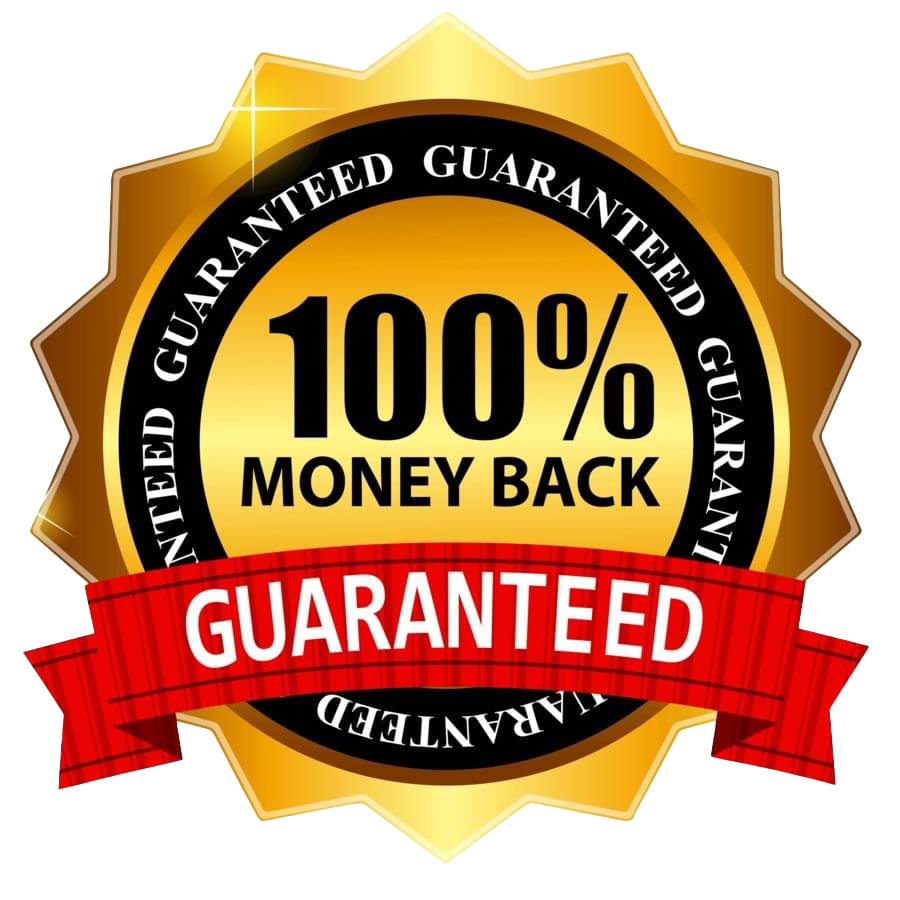 If you don't love your Blak Knife for any reason, we will immediately refund you.
Listen, I want to make sure you feel totally secure in your purchase today, so you now have nothing to lose if you are still on the fence, because I'll take all the risk.
Why? I believe in the Blak Knife, that's why I created them, and I believe everyone is better, safer, and more prepared with them, period.
So grab your Blak Knife now - WITH ABSOLUTELY ZERO RISK.